You'll know from the moment you enter our front doors that families are welcome here, as Leisure Glen Post Acute Care Center is clean and bright, and staffed by credentialed professionals that are experts in rehabilitation and compassionate care. We encourage you to visit the rest of our site. Then contact us and schedule a tour. We look forward to your arrival.
We have a dedicated staff with a diverse background in multiple therapies. We are able to accommodate our patients in many unique and fulfilling ways.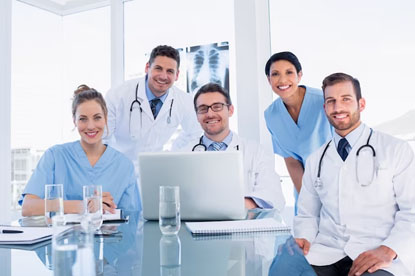 Experienced Professionals Who Care
We focus on the special needs of our patients, uncovering likes and dislikes based on an in-depth patient profile that is gathered with the family. Nutritional needs are always taken into consideration, so we carefully review food allergies, dietary habits, favorites and preferences, always assuring that body weight is monitored and health is promoted.
Families always have access to their loved ones, 24/7. If you ever have a question or concern, there is a patient advocate, our Social Services Director, on staff, full time.
Please feel free to contact us with any questions you may have about Leisure Glen Post Acute Care Center. We are at your service.
Doctors And Caregivers
A skilled nursing center can only be great with a great staff. Our team of licensed and certified experts work tirelessly to bring our patients an extremely high level of care
Time and again we hear our staff members talk of patients as if they are members of their own family — you can feel their level of empathy when administering care.
We have multiple physicians on our staff, including specialists in rehabilitation and orthopedic medicine.
Feeling safe is always top of mind, so our fall-prevention program, "Catch A Falling Star", alerts staff members who enter the room of the extra special care the patient may need when assisting them in and out of their room. Another aspect of assuring that patients feel safe and secure is the consistency of our staff. Our Registered Nurses (RNs), and Licensed Vocational Nurses (LVNs) work together to plan care, while our Certified Nursing Assistants assist patients with activities of daily living. Naturally, licensed staffing is 7 days per week.
Competencies
Our Registered Nurses (RNs) assess the patient's needs and work with our staff of Licensed Vocational Nurses (LVNs) to do the following:
Develop a care plan
Implement treatment
Evaluate the treatment outcomes to make sure they are the best possible.
All Leisure Glen Post Acute Care Center nurses are licensed in the state of California. Certified Nursing Assistants (CNAs) work under the direction of our licensed nurses to assist pateints with activities of daily living, including eating, grooming, hygiene, dressing, transferring, and toileting. All full-time CNAs have completed a competency evaluation program. All employees also pursue continuing education each month with our "Silverchair" education program.
Rehab & Level Of Care
On a weekly basis, our wound specialist reviews patients' wounds and changes treatments as needed. A podiatrist looks at vascular wounds and foot circulation to determine if any new treatments may be necessary.
On an ongoing basis, if a patient is unable to move, he or she is carefully turned in bed every two hours. Patients are closely monitored for behavior changes, depression, and for those who become forgetful, dementia. We then attempt to engage them in activities designed to address their psycho-social needs and intervene with a variety of coping mechanisms to get the patient back on track.
Ever Learning
Leisure Glen Post Acute Care Center is dedicated to expert staffing and ongoing education. Mandatory for all staff members is Relias — a continuing education program that all employees participate in once each month.
Administered online, Relias keeps Leisure Glen Post Acute Care Center at the cutting edge of the latest in skilled nursing facility techniques and information, keeping our team apprised of the best level of care available.
Mary / ADMINISTRATOR
Mary is the Administrator here at Leisure Glen and has been with us since 2014. She started in the industry as a Social Service Director. Running a skilled nursing facility is a passion for her and her goal is to take care of each patient like she would her own mom and dad.
Mary's outlook is to provide the best care possible and always speaking the truth above anything else. She believes that doing the right thing will always out weigh anything else. Caretaking with passion and honesty is what motivates Mary.
Ellen / DIRECTOR OF NURSING
Ellen is the Director of Nursing at Leisure Glen Post Acute Care Center and oversees our wonderful nurses. Ellen makes sure that nurses are doing the right things to ensure the best quality of care to our residents.