You'll know from the moment you enter our front doors that families are welcome here, as Leisure Glen Post Acute Care Center is clean and bright, and staffed by credentialed professionals that are experts in rehabilitation and compassionate care. We encourage you to visit the rest of our site. Then contact us and schedule a tour. We look forward to your arrival.
It often happens that when a loved one is hospitalized after a fall, a stroke, or a surgery, a decision is thrust upon the family to quickly find a skilled nursing facility to accommodate the rehabilitation process. If you choose Leisure Glen Post Acute Care Center, know that we empathize. It's our goal to make the transition easy for our new patient, as well as keeping the family apprised of the progress they make while in our care.
Let Us Talk You Through This
First, take a look at our FAQ and then schedule an appointment to tour the facility. By reviewing the questions before you arrive, you'll be better able to determine if your loved one will be well suited to our care center. Ask to see the accommodations, our rehabilitation facility, our outdoor meeting area, and activities room. We even have a hair salon. We accommodate individual tastes on our dining plan, and make every effort to make sure that the room meets with the new patients expectations.
Second, once you have selected Leisure Glen Post Acute Care Center, transportation from the acute care facility to Kennedy will be arranged. The new patient will be checked in and thoroughly evaluated by our registered nurses, and an initial plan of care is put into action.
After the first night's stay, our Social Services Director checks in with the patient to monitor moods, see if anything can be done to make them more comfortable, and assures their transition to Leisure Glen Post Acute Care Center has been smooth. The Social Services Director is the liaison between the patient and the staff, and acts as the patient advocate. She will be an ongoing means of support throughout the patient's stay, and beyond.
Within 48 hours, a Care Plan meeting is scheduled, which details every aspect of the patient's care, from nutrition and rehabilitation, to wound care, favorite activities, and a discharge plan. This is an "all-hands-on-deck" meeting, which includes the family, the patient, and key staff decision makers, so everyone is on the same page from the start.
Throughout the patient's stay, family members will be updated to their progress. Patients are encouraged to participate in onsite activities, which can also include outings and church services, when they feel able. Our hair salon and card room is usually bustling with activity, as we want our patients looking and feeling as much like "themselves" as possible. We have a flat screen TV and internet access, and numerous daily activities which are posted. Meals are customized to suit the individual tastes and dietary needs of the patient, with likes and dislikes addressed in the Care Plan meeting.
Once the patient's rehabilitation is complete, in most cases, the patient returns home. Others may need more long-term care in an assisted living facility. Because we understand that change can be difficult at any age, we stay in touch with the patient after they leave our facility. We want them to know that their Leisure Glen Post Acute Care Center care didn't simply "end" because they left our center. We want them eased in to this next phase of their lives, thriving in their environment and feeling safe and secure during this time of transition.
You've got questions. We've got answers.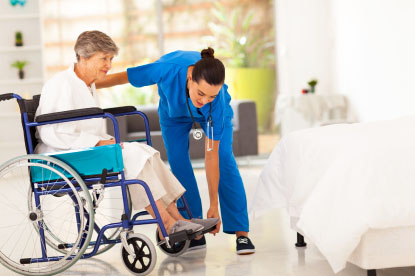 Time To Put Myths To Rest
You may have some fears about you or a loved one going into a Skilled Nursing Facility. Watch this video to debunk some of the common myths.
For instance — one myth is that Skilled Nursing Facilities are like Retirement Homes or the same as Nursing Homes. Let us set the record straight. Skilled Nursing Facilities' goals are to rehabilitate patients to function more independently. It usually involves physical therapy, speech therapy, or cognitive therapy. In other words, patients are rehabilitated with the intent of helping them become independent again in order for them to go back home healthy.
Also, a common myth is that visitation is limited for loved ones. This is not true at all. Families always have access to their loved ones, 24/7 — in fact they're encouraged to visit!
Years ago, patients used to stay in the hospital until they got better. Now, the average stay is very short and it's not enough time to recover even from routine surgeries. Skilled Nursing Facilities are the next logical step in patient care after acute hospital stays.
Skilled Nursing Facilities provide therapy and rehab services that used to be done in acute hospital settings. In the hospital setting, the focus is on getting the procedures completed and getting the patient to a stable point medically. But patients are discharged from the hospitals so soon — often times patients are not strong enough yet to do things for themselves, and they're not really at a safe point to go straight home.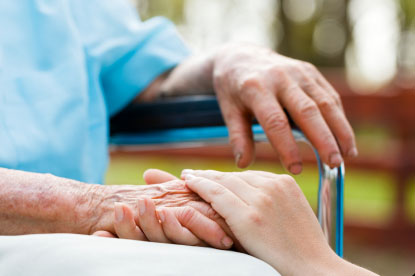 It's the Skilled Nursing Facility that focuses on the recovery and advanced therapy techniques. Getting this special next step of care after the hospital helps patients get stronger and more independent before going home. It also decreases the chances of a return to the hospital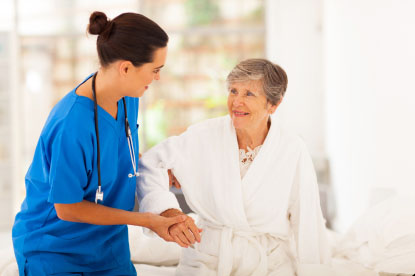 Your Family is Our Family
When people hear the words "Nursing Facility", many people still think of the old negative connotations associated with "Nursing Homes" and how they were decades ago. They think it means it's a permanent placement of a loved one — a place someone will spend the rest of their days. This is not at all the case with Skilled Nursing Facilities, which actually serve as a place for therapy.
Skilled Nursing Facilities focuses on patient recovery using advanced therapy techniques with the goal of keeping the stay as short as possible. This is a necessary step in recovery.
The plan for patients is not to have the facility become their home — it's to get them better, get them stronger, and get them back home and doing what they love.